At the CES show in January, I met with the folks at SanDisk and we spoke about how the technology behind flash memory-based, solid-state drives (SSD) has really arrived.
In fact, during a climbing expedition to Pakistan last summer, I only shot to SSD. I used SanDisk Extreme Pro CompactFlash and SD memory cards in my DSLR. Our Atomos Ninja II, during interviews, recorded to SanDisk solid state drives. Even my MacBook Pro is solid-state. 
SanDisk put together this great web spot, which features me discussing some of the major benefits of SSD technology and how important it was to the success of our expedition to Pakistan last summer. Please check it out: SanDisk SSD Video Production Workflow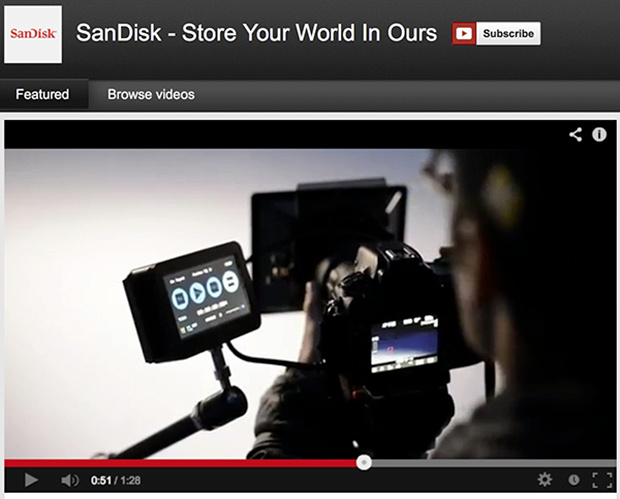 Screen grab from the SanDisk "SSDs Enable Extreme Video Production Workflow" video. Click image above to watch the video.

Expedition climbers and adventure photographers are alike in that so much of our success depends on having the right equipment that can stand up to the harshest, most rugged conditions on the planet. SanDisk's new SSD drives have been as important and reliable to my still/motion work as a rope is to my climbing. This is equipment that instills faith, which is exactly what you want when traveling to a place with so many unknown variables, like the Karakoram.  
The Karakoram Range in Pakistan is one of the world's most impressive, and savage, mountain ranges. The topography is extremely wild and varied. The Karakoram is most famous for having K2, the second highest mountain in the world, but I'd argue that the collection of dramatic granite spires known as the Trango Towers are really what make this area spectacular.
Last summer I had the once-in-a-lifetime opportunity to climb and shoot an ascent of Trango Tower (20,623 feet) with famed Austrian alpinists David Lama and Peter Ortner for Mammut, and the stakes were high. I had only one chance to get all the content I needed, and I didn't want to miss it. 

(right) Nikon dual camera interview set up with David Lama (left) Corey Rich interviews climber David Lama.
We were shooting for television, a short film for a film festival, and still photos for an international ad campaign. This is a massive amount of data, and I put all of my faith in SanDisk's SSD technology to capture literally a mountain's worth of photos and video. The SSD drive is an exceptional new tool and now, a permanent addition to my kit.
Reaching the summit of Trango Tower was experience I'll never forget, and fortunately I had the right tools to help me document this incredible expedition, from camera to drives to rope. 
(To read more about our trip, check out a past post giving you all the behind the scenes details: http://news.coreyrich.com/2013/01/corey-rich-documents-expedition-in-pakistan.html)
My kit included: Nikon D600, D800, and D4 cameras and a variety of Nikon Nikkor lenses; SanDisk SSD drives and SanDisk Extreme Pro CF and SD cards; Litepanels LED Lighting; Schneider B+W Filters, Lite Pro Gear, Lowepro, Manfrotto imaging accessories and Clif Bar.